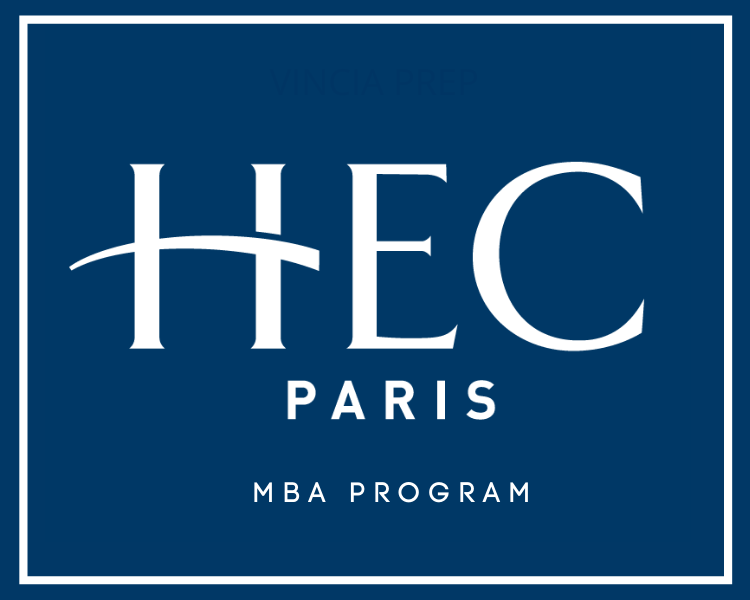 What is HEC Paris?
Background on France's top business school
HEC (École des hautes études commerciales de Paris) is France's most prestigious and one of its oldest business schools.  Founded in 1881, the school has many of the markings of a highly selective institution such as high rankings for its programs like MBA, EMBA and Masters.
HEC primarily and historically built its prestige in France based on its French-speaking Masters program, specifically the Grande Ecole program, which is essentially a French Masters in Management. The program admits top students in France and has graduated a long line of French CEOs and business leaders.
Among the current notable business leaders today from the Grande Ecole program are L'Oréal CEO Jean-Paul Agon, Danone CEO Emmanuel Faber, and Michelin CEO Jean-Dominique Senard.
The MBA program, which HEC claims originated in 1969, has also generally fared well in the international rankings and has increased in size and its international profile over the last couple decades.
Additionally, the school has always had a healthy offering of masters programs traditionally building upon its strong reputation in Finance, including a top-ranked MSc in International Finance and a MSc in Accounting & Financial Management.
HEC has deep ties to Paris yet the MBA program is delivered on campus around an hour trip by car or public transit from central Paris in the small suburban town of Jouy-en-Josas. The school also has relatively tiny "representative offices" in locations like London, Berlin, New York, Beijing, Abidjan and Tokyo.
In 2010, the school created a "branch" in Doha, Qatar to deliver certificate and training programs as well as part-time degree programs such as a "specialized masters" as well as its highly ranked International EMBA. The international EMBA is based in Paris but also is delivered in part from "offices" in Beijing.
Is the HEC Paris MBA program good?
While the entire institution of HEC is often found at the top of the Financial Times European Business School rankings, that does not mean the 16-month, full-time MBA is on the same level as its other programs.
Based on rankings alone, the HEC MBA appears not as prestigious as its Masters in Management, which is normally around 380 students and is found generally at the top of The Financial Times annual Masters in Management rankings.
In fact, until 2020 when it reached #9, over the past decade HEC's MBA always remained in the lower bottom half of the top 20 in The Financial Times Global MBA rankings.
The HEC MBA program has undergone some considerable change over this past decade among them nearly doubling its student population with a goal of reaching 300 students.
Which program is better at HEC Paris; the MBA or EMBA programs?
This is a question that should be answered based more on the needs and background of the student applying. The general rule for MBA programs is that students are generally much younger and thus less experienced than Executive MBA students.
As well, MBA students must stop work to enter a 16-month program and must find employment after the program, while EMBA students are often busy professionals who are commonly promoted in the same company following graduation.
But as far as prestige is concerned, HEC Paris' EMBA programs are ranked much higher than the MBA.
While the HEC Paris MBA has stayed consistently in the FTs lower top 20, HEC has something of a curious competition forming between two of its EMBA programs: the International Executive MBA and the three-partner school TRIUM Global Executive MBA.
These two programs are occupying 2 of the top 3 spots in the most recent Financial Times EMBA ranking for 2019.
HEC's International EMBA took the top ranking in 2019 after entering the rankings for the first time at #6 in 2018. TRIUM placed #3 but has consistently been ranked among the top 5. In 2014, TRIUM ranked at the very top of the FT's global EMBA rankings.
What is the TRIUM Global EMBA?
TRIUM is an EMBA degree jointly issued by New York University Stern School of Business, London School of Economics and Political Science, and HEC. It's an 18-month program requiring students to study in London, New York, Shanghai, Silicon Valley and Paris for 6 modules of up to two weeks.
Which is better the TRIUM Global EMBA or HEC International EMBA?
For global appeal with big brand names on your CV well known outside of France and a more diverse student population, TRIUM is an easy choice. But, the HEC international EMBA – despite several different intakes, some of which are delivered mostly in French – is still a strong program for those who wish to build their career primarily in France or with French-Speaking companies.
Is the HEC Paris MBA selective?
HEC's MBA is not as selective as the Grand Ecole program but it is still very selective. A few years ago the school released application statistics to a paid promotional website, which published an acceptance rate of 17.5%.
The accuracy of that statistic, which also cite 391 admits out of 2,231 applications for 235 spots in 2018, was not verified with any transparency.
So, what does the HEC Paris MBA look like?
The program starts either in September or January and lasts 16 months, divided into four four-month "terms". The first two terms in a "Fundamental Phase" are focused on "core business skills" with classes such as Financial Markets, Strategic Management or Problem Solving & Communications. The last two terms are in a "Customized Phase" and are a mix of electives, optional internships, MBA Project or an international exchange. The final term allows students to specialize in 7 different specializations including Entrepreneurship, Finance and Strategy or an international exchange among 30 different partner schools.
Woven throughout the MBA is a focus on leadership development with an off-campus Leadership Seminar and other events and activities.
How do I get into the HEC Paris MBA?
HEC Paris claims its admissions process takes 5 weeks from start to finish. The school has long favored an initial screening process that allows a region Marketing & Recruitment Manager to form a connection with recruits and "help" them in the application process.
While HEC claims this initial interaction does not affect the MBA application, it would stand to reason it would at least affect how the Marketing & Recruitment Manager manages the applicant.
Then again, if you tell the manager you might corruptly bribe your referees to write perfect recommendation letters – it seems highly implausible this relevant information would be well received by the manager or at least kept from an admissions jury.
The Online Application involves 5 required essays of up to 250 words each as well as an additional "optional essay" allowing the applicant up to 900 words to share additional information. As well, two referees are required and will receive an email recommendation form, which must be completed and sent back directly to HEC.
Along with CV and additional description of professional experience, HEC also asks for non-native English proficiency demonstrated by a University degree where the primary language of instruction is English.
From HEC's Website:
Minimum TOEFL: 100 internet-based, 600 paper-based
Minimum TOEIC: 340 Speaking & Writing and 850 Listening & Reading
Minimum IELTS: 7.0, with a minimum of 6.5 on each part of the test
Minimum Cambridge English exams (First, Advanced, Proficiency, Business): 185 with a minimum of 176 on each part of the test
Minimum PTE: 72
Lastly, HEC requires the GMAT or GRE and the average GMAT score for the class of 2019 was 690. HEC also "strongly encourages" applicants to submit a GMAT with a balanced score above 60% for both quantitative and verbal sections. However, it has been our experience over the last decade that HEC is more flexible than INSEAD when it comes to this balanced score. Indeed, INSEAD almost always requires students to retake the GMAT if they don't score at least a 45 out of 51 on the GMAT math section whereas HEC will still accept you as long as the rest of your application is solid.
After these aspects are submitted, admissions will conduct a "pre-selection" assessment, which means they think you are good enough at least to be interviewed by HEC alumni. Once past this phase you are paired with at least 2 different HEC alumni in your geographic region for an in face interview.
After this step, the application can go to Admissions Jury, which HEC claims is populated by: Representatives of the French Ministry of Education, HEC Paris Alumni and the MBA Faculty, as well as the Dean of the HEC Paris MBA.
The Admissions Jury is held each month and delivers one of three decisions on an application: admitted, not admitted or placed on a waiting list.
How much does the HEC MBA cost?
January 2021 tuition costs €72,500 and estimated living expenses – which include on campus housing costing about €10,000 - range up to €25,000. This puts the grand total to €97,500.
So, which is better…HEC or INSEAD?
This is not really a question for the MBA program, INSEAD is easily the frontrunner on nearly every important measurable scale from an average ranking over the past three years (#4 vs #16) to salary (€181,277 vs €164,529) and is in fact less expensive and "better value" than HEC.
HEC has built its name and invested much more heavily in France than INSEAD has. INSEAD is generally considered to be more of an international institution. But the conventional wisdom positing HEC's MBA as mostly French, seems untrue if you believe HEC's 2019 MBA employment report as transparent
Quite surprisingly, the MBA program's career statistics for 2019 list the 239 member class 2019 as 92% international participants. For a French institution, it's also quite shocking to see the largest geographic origin is Asia & Oceania meaning mostly Indian students, which is 43% of the class versus 18% European.
But, there's no arguing that the overwhelmingly vast majority of HEC alumni, not just MBA, live in France and that is an element to consider when weighing the two schools.