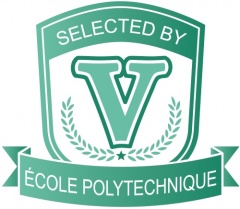 Everyone on our team has scored as high if not higher than most Harvard students on the part of the exam that they teach, and have gone through more training that any other Parisian company.  We also differ from other companies in that we don't use secretaries, salesmen, etc...  Instead when you use this site you're connecting directly with the source of your education.
Furthermore, our team has the only beat the GMAT (BTG) certified teachers in Paris*.  In particular, with over 10 years of experience, our teacher Dan is the most experienced admissions consultant in Paris. It is thanks to this knowledgable team that Vincia Prep was chosen by Ecole Polytechnique to present the GMAT and GRE during their workhop in 2018, and by GMAC™, the creator of the GMAT, to present the GMAT to all of France in 2019 during their webinar. Finally, not only will you receive quality tutoring, but our unique materials combine years of research with the best ideas from almost every other major company.  This will give you insights, strategies, and tricks that won't be found in any other individual book.  All of these things together mean that we'll help you reach your maximum test score.
*(BTG is one of the world's largest GMAT preparation websites).  Recognition is received after over a hundred online posts that were deemed of high quality by independant readers. 
Dan

Perhaps the most significant thing about Dan is that he is now starting his

thirtenth

year of graduate consulting and teaching (as of 2018). He trains all of the teachers at Vincia Prep ensuring high quality classes and answers any of the general questions that you might have throughout your training.  Furthermore, if you decide that you want help with the application essays, Dan will help you structure your writing and then work with a professional writer in the US to make your application shine. Over the years he has helped hundreds of students get into every top MBA and many masters programs all over the world including INSEAD, HEC, ESSEC, Harvard, Stanford, Columbia, Stern, ESADE, LBS, LSE, Cambridge, Oxford, ISE, Wharton, and many others.
Dario

Dario graduated with a double degree in 2008 in aerospace engineering from Polytechnic University of Turin (Italy) and Engineering at Cranfield University, UK. After finishing, he realized that working for a company was not as engaging as sharing his passion for math and science. So in 2009 he started teaching math, and computer science in Italy at the high school level, and now to adults in Paris. He scored a perfect 51 on the quantitative section of the GMAT and when he is not helping students with their GMAT quantitative section, he is travelling or playing Ultimate Frisbee or doing both at the same time.

 

Rena

Rena completed her Bachelor's degree of Foreign Service at Georgetown University in 2000, a double Masters (MBA/MA) in International Trade at The George Washington University in 2006, and was a Fulbright Research Scholar in Istanbul,Turkey from 2005-2006.  She scored in the 90th percentile on her GRE verbal section and currently prepares Vincia Prep students for the part of the exam. 

Ethan

Ethan completed a bachelor's degree in math from the University of Oregon in 2007, and started tutoring math and physics in 2005. His passion for teaching made it so he has continued for over 10 years, while work working as a rafting guide and tango dance instructor on the side. He's helped countless students through high school and university classes, and to prepare for the SAT, ACT, GRE, and GMAT. He scored a 750 on the GMAT, with a 49 on the quantitative section.
 

Samuel

After graduating from Sheffield University in 2011 with a dual honours degree in English and French, Samuel spent several years travelling and teaching before returning to England to completed his MA in English and Comparative Literature at Warwick University, where his dissertation focussed on narratives of travel and exile. Samuel placed in the 99.9th percentile for the Verbal section of the GMAT, with a score of 48 out of 51. He now helps Vincia students increase their scores, and enjoys showing them how to recognise and avoid the many traps the GMAT sets. He also teaches English Language at a number of higher education schools and universities across Paris, preparing students for their IELTS and TOEIC exams.
| | |
| --- | --- |
| Toby | Toby also graduated from the University of Sheffield and shortly after completed 120 hour training course at the TEFL Academy for teaching English as a foreign language (TEFL). He worked eight years on and off at the Oakwood Park Grammar school, before coming to Paris where he now teaches the verbal section of the GMAT after scoring in the 95th percentile and in his free time helps coach a local rugby team. |
| | |
| --- | --- |
| Martin | Martin studied a master in business at Burgundy School of Business and graduated in 2012 from a MBA at University of Kentucky. In order to access the MBA, he passed the GMAT and got a 49 on the quantitative section. After his studies, he worked for a private company and realized that it was not his cup of tea. So he decided to follow his passion: helping students to improve their results and achieve their dreams. After returning from a two-years stay in Asia, Martin decided to teach mathematics to middle-school and high-school students and the GMAT. While not teaching, he loves bicycling in the street of Paris and travel the world in search of new adventures. |