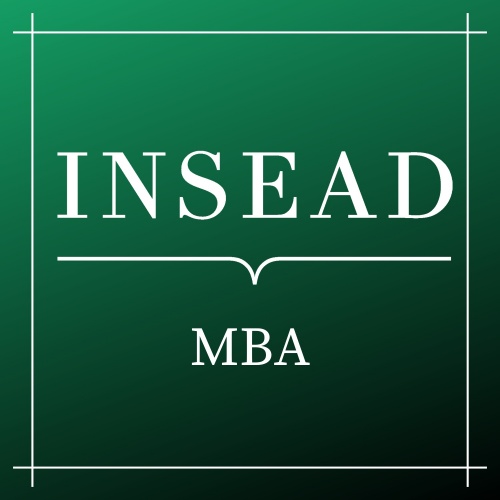 A complete overview of the INSEAD MBA program, campuses, cost, value, entrance difficulty, and entrance criteria
What is INSEAD?
Background: Based on the past three years of The Financial Times Global MBA ranking, INSEAD is considered the top MBA program in Europe. Founded in 1957, INSEAD was the first European institution to award an MBA degree based on a year-long format.
Deriving from the acronym Institut Européen d'Administration des Affaires or European Institute of Business Administration, INSEAD has grown from its home of Fontainebleau to include two other full-time campuses offering degree programs, one in Singapore (founded in 2000) and Abu Dhabi (founded in 2010).
Most recently, as of February 2020, INSEAD opened a "Hub for Innovation" in the South Park neighborhood of San Francisco. However, this campus does not award degrees and is dedicated to Executive Education in the form of open-enrollment courses and electives and study trips for EMBA and MBA students based on the other three campuses.
INSEAD has solely focused on graduate business management education as opposed to the American model of business school, which also features undergraduate degree programs. Similar to LBS or IMD, the alumni network is exclusively comprised of graduate students, primarily MBA degrees, who earned their undergraduate degree from different institutions.
Until 1989, with the launch of a PhD program, INSEAD did not award any other type of degree except an MBA. However, in 2012, following the rise in popularity of Master's degree programs, INSEAD announced a specialized masters in Finance and very recently launched a Masters in Management (MIM) degree program.
What does the INSEAD MBA program look like?
The INSEAD MBA class has two intakes per year - in January and September – and lasts 10 months long. Thus, students starting in January finish the program in December of the same year while students starting in September finish in July of the following year.
The program is organized into five 8-week/2-month periods advancing from core to elective courses. For the January intake, it is possible to pursue a summer internship which may assist students in their placement after December graduation. And, both intakes feature the opportunity to pursue an optional campus exchange.
Which INSEAD Campus is best?
Short answer: Despite INSEAD's efforts to make the campuses equal, recruiters still have a tendency to search locally and so the best campus will depend on where you want to get a job. However, INSEAD has made it so "all companies recruiting from INSEAD must include students from all campuses in their recruitment campaign". 
Long answer: Applicants to the MBA program must give their "home campus" preference in the online application. The "home campus" is where a student is registered and will take classes for the entire program, unless the student is successful in obtaining a Campus Exchange, normally conducted in the later stages of the MBA.
Applicants must select a preference of Fontainebleau, Singapore or Either Campus. INSEAD claims not to weigh an applicant's preference in their judgement of admission.
According to their application: "Home campus choice does not influence final admissions decisions, as it is not taken into account when your file is presented to the Admissions Committee."
Therefore, if your unwavering goal is to study at the Fontainebleau campus, you may elect this campus as your preference and if not given your preference, you may either take the Singapore campus or ask to be put on a waiting list for Fontainebleau.
For most MBA students and alumni, the bucolic Fontainebleau campus is of course, the largest and most widely known campus. The campus is a bit tricky to get to by public transport and takes at least an hour car ride from central Paris. Surrounded by a large forest, the tiny town of Fontainebleau has roughly 15,000 inhabitants and features a historic palace.
On the other hand, the Singapore campus is situated in the residential neighborhood of Queenstown, the south-westernmost fringe of central Singapore. Queenstown is also home to National University Singapore and ESSEC, another well-known French business school.
According to INSEAD: "You will have the opportunity to spend at least one Period on another INSEAD campus from Period 3 onwards. Depending on your intake (January or September), you may also choose to spend Period 4 or 5 at one of our partner schools (Wharton, Kellogg or CEIBS). Wharton and Kellogg will be of particular interest to those seeking to build a network in North America – or simply to experience a top U.S. business school."
Ultimately, the "best campus" is based on both on your current personal situation and the professional outcome you are considering after the MBA. You can assume the highest probability to work for a company based in Asia would be to opt for the Singapore Campus. Likewise, it's more probable to work for a European company being based in France.
INSEAD does its best to cast an optimistic view on there being no difference in career opportunities for both campuses because "all companies recruiting from INSEAD must include students from both campuses in their recruitment campaign"  but that doesn't mean its equal and recruiters are still humans who arrive in person because location matters.    
How much does the INSEAD MBA Cost?
The general total cost estimate for INSEAD including tuition and living expenses is approximately €110,000
INSEAD states it January 2020 MBA program tuition is €87,000 and starting in January 2021 there is a €2,000 increase to reach €89,000.
There are additional fees related to living, however, and INSEAD provides a mock budget with itemized list of expenses, for the Fontainebleau or Singapore campuses.
Currently, the total estimated costs of 10 months studying in Fontainebleau range from €27,260 (including a €3,900 car lease) to €24,360 and in Singapore the estimate is €27,700.
Thus, the most general total cost estimate for INSEAD including tuition and living expenses is give or take a few thousand over €110,000. After a €10,000 non-refundable deposit paid within 4 weeks of acceptance, the tuition is paid in 2 separate installments during the program.
Is an INSEAD MBA worth it?
The Financial Times 2019 ranking published INSEAD MBA graduate average salary as €180,527 and an average salary increase of 104%.
Along with this, the FT also includes a ranking of the program Value for Money, which is a calculation of figures that include the average alumni salary, tuition fees and other expenses and the opportunity cost of not working during the program.
In this regard, INSEAD ranked quite high as the 6th best value for money. No other higher overall ranked school such as Top-Ranked Harvard Business School or Stanford Graduate School fared better in this regard. In fact, HBS ranked 73rd in value for money.
If you were to consider the Financial Times ranking data as undisputable, INSEAD clearly is worth the cost. The data would seem to present an average incoming student making just under $90,000 and leaving with double that salary, which means a relatively quick ROI from the €110,000+ price tag.
But, of course, the data is disputable because it is entirely self-reported by alumni. As an average, it means not every graduate makes this amount, a percentage make less and a percentage make more. And, it's important to note it is data only from students who do report, not from students who fail to respond or be counted in the survey.
So a good rule of thumb is to do the math yourself by researching and comparing your skills, experience and background to that of recent graduates that landed jobs to see if it is feasible for you to be paid this amount with an INSEAD MBA on your CV.
Is INSEAD hard to get into?
Yes. It is selective. But exactly how selective? Unlike other top-ranked programs, INSEAD will not reveal how many applications they receive versus how many they admit. There are estimates broadcast on the internet that INSEAD has a selectivity rate of 30% - which would mean 3 out of every 10 applicants is admitted.
INSEAD does provide some guidance in terms of the type of MBA student it looks to recruit based on GMAT. Though there is no minimum score posted for admission, INSEAD advises applicants to consider a score above the 70-75th percentile for both quantitative and verbal sections of the GMAT, as well it asks for a score of 6 or above on the Integrated Reasoning section. Over the last decade we have seen a fair number of candidates who had to re-take the GMAT because they did not score at least a 46 out of 51 in the math section (60th percentile). If you want some advice on your GMAT Preparation or MBA application, you can contact Vincia Prep and we'll have one of our experts help you get started.
 What does INSEAD Look For?
INSEAD is clear and forthcoming on elements it finds attractive or is looking for in candidates.
INTERNATIONAL MOTIVATION:
Given that the school's trademarked motto is "Business School for the World" it considers "international motivation" a key quality. Defined mostly as having worked or studied outside their own home country INSEAD is willing to consider applicants without this experience but having shown motivation towards working in a multi-cultural environment. Examples of this type of motivation might be international travel, working for a multi-national company, or demonstrated interest in learning other languages. Further in the line of linguistic ability, INSEAD requires that students have the ability to use a fluent level of English, another language practically and a basic level of knowledge of a third language after graduation.
Leadership Potential: essential as INSEAD is not searching for an administrative assistant or technical specialist to stay in this career. The point of the MBA program is to develop students who are already poised to be bigger global leaders.
Ability to Contribute: A student's time at INSEAD is defined by being a member of a team. Groups of 4-6 individuals approaching a problem will be a common theme throughout the program. Given that teams need contribution and overall the academic and social environments needs contribution, INSEAD wants students who are active and engaged.
Academic Capacity: This seems quite obvious, INSEAD is looking for strong students. But with such an international student population, not everyone who scores a perfect grade point average is the same. Thus, INSEAD claims "to consider the competitiveness of the institution you attended and your academic performance."