List of average ages of MBA applicants in the US
After going through the statistics from the top 50 mba programs we can tell you that the average is now about 28 years old as of 2020.
Interestingly, the average age of MBA students has increased about a year over the last decade. That is, at the start of the 2010's the average age was closer to 27. This would suggest that schools are giving a bit more priority to students with a little more work experience than they did at the beginning of the decade since students now average 5 years of experience. However, we should take this information with a grain of salt since average age varies from school to school. Indeed, European schools like ESSEC and IMD often have a slightly higher average age. This is partly because many students in Europe start their careers a year or two after their American counterparts since Europeans often get a masters degree before they join the work force.  
Besides the average age of students, another important consideration is the age range that schools generally accept. While this information used to be publicly available, many schools stopped publishing this data after the graduating class of 2017. However, given the fact that most schools didn't change their age ranges much between 2015 and 2017, it's probably safe to say that the large majority of students are within 2 years of the average. That is, if the school average is 29 years old, most of the accepted students (about 80%) will be between the ages of 27 and 31.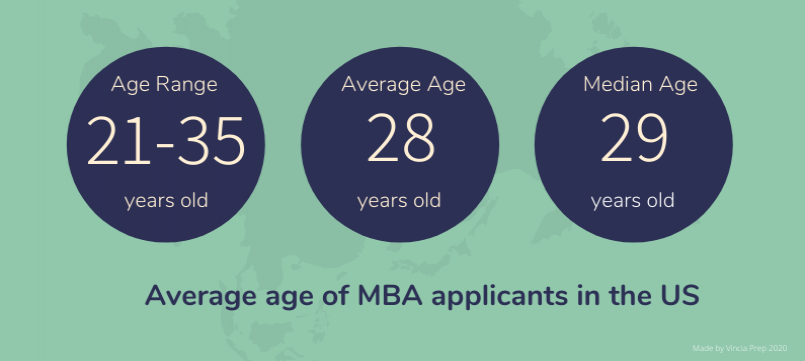 Finally, there's the question of "am I too old or too young?" for a certain MBA program. Generally speaking, if you're on the outer range, you'll have a better chance of getting accepted to a school that has a large class size. Schools like Harvard that have nearly a thousand students tend to accept outliers more readily than schools that only accept a hundred students. Furthermore, one of the big keys to getting accepted into a program is showing that you're going to fit in and contribute. Thus, if you're an older applicant, you'll need to show in your application that you're not going to be aloof, but rather be an active classmate that other students will enjoy having around. If you want help with your application you can check out our mba application coaching or look at our other blog articles in the links at the bottom of the page.
Most of the below statistics come from the official school websites for classes dating between 2017 to 2020.
Average age of class of 2019: 31
Arizona State University (Carey)
Average age of class of 2019 : 29
Average age of class of 2018: 28
Average age: 29
Age range from 25 to 34 
Average age: 27
Average age: 28
Brigham Young University (Marriott)
Average age for class of 2019: 29
Average age : 25
Average age: 28
Case Western University (Weatherhead)
Average age: 27
China Europe International Business School
Average age: 29
Claremont Graduate University (Drucker School of Management)
Average age: 27
Average age : 28
Average age: 30
Average age: 28
Average age: 28
Average age: 28
Average age: 29
Average age: 29
Average age: 30
Florida International University
Average age: 30.5
Average age: 28
Average age: 28
Georgetown University (McDonough)
Average age: 28
Average age: 28
Average age: 27 
Average age: 25
Average age: 31
Average age: 30
Average age: 31
Average age: 29
Average age : 29
Indian School of Business (ISB)
Average age: 27
Ages range from 22 to 46
Johns Hopkins University (Carey Business School)
Mean age: 32
Michigan State University (Broad)
Average age: 28
Average age: 28
Average age: 26
Northwestern University (Kellogg)
Average age: 27
Average age: 28
Ohio State University (Fisher)
Average age: 28
Average age: 29
Age range : 23 to 40
Average age 2018 : 28
Pepperdine University (Graziadio)
Average age 2018 : 29
Average age: 27
Average age: 28
Average age 2018 : 28 
Middle 80% range age (years) : 
From 25 to 32 
Average age 2018 : 29
Southern Methodist University (Cox) 
Average age 2017 : 30
Average age 2019 : 27
Average age 2019 : 26
Average age 2019 : 29
Average age 2019 : 27
Average age 2019 : 30
Average age 2019 : 27
Average age 2019 : 28
Average age 2019: 29
Average age 2019 : 28
Middle 80% range age (years) : 
From 24 to 40
Average age 2017 : 24
Middle 80% range age (years) : 
From 21 to 30
UNC - Chapel Hill (Kenan-Flagler) 
Average age: 28
Average age 2019 : 29
Average age 2019 : 28
Average age 2018 : 27
Average age: 27
Average age 2019 : 26
Middle 80% range (years) : 
From 21 to 34
Average age: 34
Middle 80% range age (years) : 
From 26 to 44
University of Maryland (Smith) 
Average age 2019 : 28
Average age 2019 : 28
University of Minnesota (Carlson) 
Average age 2019: 29
University of Notre Dame (Mendoza) 
Average age 2019: 29
University of Pennsylvania (Wharton) 
Average age 2019: 28
University of Pittsburgh (Katz) 
Average age 2019 : 26
University of South Carolina (Moore)
Average age 2017 : 31
University of Southern California (Marshall) 
Average age 2019: 29
University of Tennessee at Knoxville 
Average age 2019 : 27
University of Virginia (Darden) 
Average age 2019 : 27
University of Washington 
Average age 2019: 29
Middle 80% range age (years) : 
From 24 to 40
University of Wisconsin-Madison
Average age 2019 : 28
Average age 2019 : 28
Middle 80% range age (years) : 
From 21 to 36
Wake Forest University (Babcock)
Average age 2019: 28
 Middle 80% range age (years) : 
From 25 to 32
Average age 2018: 28
Average age 2019 : 27
Average age 2019: 28
Back to the GMAT page- GMAT Class
 

Portable: +33 (0)6 41 75 45 71

 

Siren number- 524514957  

 

Main Office Address:

46 rue Saint-Antoine 75004

 

Group classrooms: 

115 rue Notre Dame des Champs 75006

et

41 rue de la Chaussée d'Antin 75009